The Electronic Science Department announced the formation of the "TECHNO SOCIETY" with an objective of providing the students a forum to discuss various intellectual and academic issues,not generally touched upon in classroom teaching.
It extended its membership to all Electronics and the office bearers for the present academic session were
President : Anil Nainwal
Secretary : Saurabh Aggarwal
The Techno Society also started a wall magazine 'Sci-Vision' to update the students with the latest information.The students actively participated in bringing out this wall magazine successfully by contributing scientific articles such as Fuzzy Logic,Anatomy of the Air Crash,Dolly,Microsoft Humor,Chemistry of Laughter,Einstein Theory.
A quiz was organized by the Techno's in association with Computer Science Deptt. and Mathmatical Science Deppt. The TECHNOS,namely Shibaji Das (Roll No. 240) Jaideep Muhri (Roll No. 256),Saurabh Aggarwal (Room No. 107) and Mitesh (Roll No.306) emerged as winners.
Shibaji Das of Electronic Science (Ist Year) was a member of the winning team of college level quiz competition organised by the Deptt. of Economics. The other members of the team were from Commerce Deptt.

Topgallant Excellent Cooperative Honest Noble Outfacer Society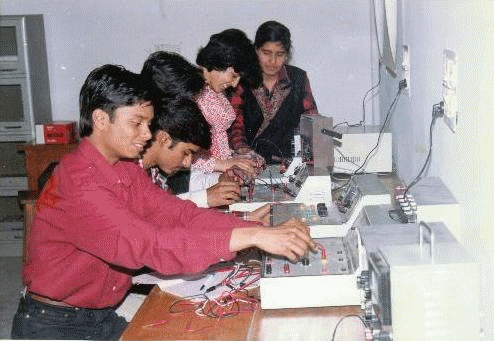 Students in Electronics & Physics Laboratory.